Partecipare è il verbo cardine che rappresenta la nostra esperienza al Liferay Italy Symposium 2017, tenutosi a Roma lo scorso novembre. Siamo stati parte attiva non solo in veste di attenti spettatori ma anche, e soprattutto, in quella di speaker, presentando il nostro plugin SEO per Liferay.
Durante il Simposio sono state presentate alcune delle nuove funzionalità di Liferay, nonché il consolidamento in Italia di Liferay Inc. con Liferay Italia e nuove partnership, tra cui RedHat.
Il keynote di apertura del CEO Bryan Cheung, intitolato "The future of our technology" – uno degli speech più attesi e importanti – ha messo in luce la vision e la direzione che Liferay sta perseguendo: sempre meno portal e sempre più "platform per la trasformazione digitale".
Bryan ha presentato la nuova dimensione di Liferay quale piattaforma incentrata sulle API, punto di congiunzione per una eterogeneità di app che possono consumare servizi sia on premise sia in cloud. Quattro sono quindi i punti cardine del cambiamento:
Modular Backend Services (for Reusability & Flexibility)
APIs designed to evolve (for Headless Usage w/ Evolvable Agnostic API)
Modernize Frontend Tech & Put UX First: tecnologie FrontEnd in primo piano per creare Frontends eterogenei e supportare SPA, Kios, Desktop & Mobile
Ready for Cloud Deployment, per lo sviluppo in Cloud di applicazioni moderne e lo sviluppo rapido di applicazioni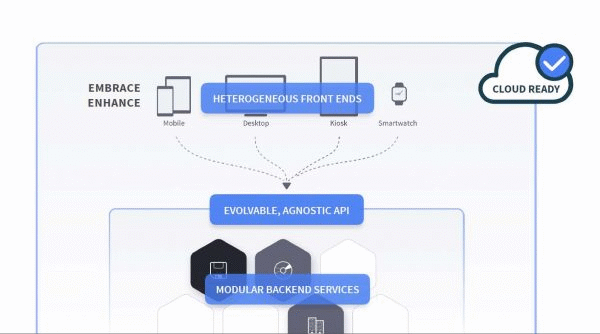 La visione di prodotto Liferay, orientata ad essere piattaforma incentrata su "Evolvable API". Punto di congiunzione per una eterogeneità di app che consumano servizi on premise e in cloud
WeDeploy
Per il mondo Cloud è stato presentato il nuovo progetto WeDeploy.
L'offerta di Liferay Inc. si amplia affiancando una platform per la realizzazione di applicazioni in cloud. Questa soluzione è nata per offrire la possibilità di sviluppare rapidamente applicazioni di concezione moderna (orientate ai microservizi), sollevando lo sviluppatore da una serie di attività DevOps quali scalabilità, supporto ai BigData con NoSQL db, ecc. WeDeploy è già disponibile ed è stata lanciata in produzione lo scorso ottobre.
Liferay Commerce
Ulteriore importante novità di questo Symposium 2017, in termini di feature, è stata sicuramente la presentazione di Liferay Commerce: un e-commerce concepito dalla nascita in modalità (anch'esso) API First, modulare ed estendibile e con un approccio sia B2C che B2B.
Scarica due casi studio di portali sviluppati con Liferay
Liferay Plugin SEO-Friendly
In quest'ottica di cambiamento abbiamo fatto la nostra parte implementando per la piattaforma Liferay 7 Community Edition un modulo atto a renderla maggiormente SEO Friendly.
Riccardo Martini, sul palco del Bootcamp, ha anticipato l'uscita del Liferay Plugin SEO Helper, indispensabile per integrare la SEO Starter Guide di Google nei portali web in Liferay.
La versione verrà rilasciata a breve come open source alla comunità degli sviluppatori e in seguito verrà resa disponibile anche sul Marketplace Liferay.